by Darasia Selby-Adebisi | November 1, 2013
On December 7, the Orisa Community Development Corporation and ZEYBRAH are proudly featuring the 14th annual Moment in Time Festival, featuring a staged reading of Sango Gunmi: The Emergence of the Yorùbá Tradition in the African American Community.  Written by Essence best-selling author Karen E. Quinones-Miller and directed by David D. Wright, founder of the Orisha Tales Repertory Theatre, Sango Gunmi honors the life and legacy of Marjorie Quinones Sango Gunmi, the first African-American initiated into the Yorùbá tradition on U.S. soil and the progenitor of Ile Ase, the largest and oldest African-American Orisa house in the country.
Eriwo Ya! had the privilege of interviewing Joe Quinones, the son of Madrina Margie, as she was affectionately called by practitioners of that era as, and co-founder of the Orisa CDC, and Basha Alperin, founder and director of ZEYBRAH, about this groundbreaking program.
 Eriwo Ya!: What sparked the idea to have a commemorative event in honor of  Madrina Marjorie Quinones Sango Gunmi  and why does this event hold significance for you?
Joe: The idea of honoring my mother, Marjorie Quinones, at this event was my idea.  I felt that as any people do, it is important for us, as African-American Orisa practitioners, to honor our history as we honor our ancestors.  As this is the 50th anniversary of the initiation of the first African-American priest initiated on American soil, I felt it important to plant the seed in the mind of our people that we should honor our history and reflect on the work and legacy of our ancestors.
Basha: I knew that this day would eventually come.  I knew Madrina Marjorie for many years, her family and many of her godchildren. I spent time in Nigeria with Lloyd and Stephanie Weaver. Baba Lloyd was one of the first priests that Margie initiated, who in turn initiated many others as did his wife Stephanie. ZEYBRAH and the Orisa CDC have also worked together in the past to produce the Moment in Time Festival and I knew that at some point we would want to honor Madrina Marjorie.  I knew the 50th anniversary of her initiation was coming up so when Joe suggested that we honor his mother this year, I was very happy to do so.
 Eriwo Ya!: Basha, can you give us some background on the Moment in Time Festival?
Basha: The Moment in Time festival actually goes back to 1984, when we had our first festival which was a tribute to Ronald 'Balogun' Love, a great African-American drummer and priest of Obatala who was extremely popular.  At that first festival, thirteen African dance groups performed for free in his honor.  We originally called it the Multi-Media Family Festival because we wanted to emphasize that this was an event the whole family could enjoy.  Eventually that festival evolved to honoring one of our cultural heroes who has passed away and we've had this format for the past thirteen years.  In the past, we have honored greats like Miriam Makeba and Orlanda "Puntilla" Rios. That's why when Joe mentioned that this was the 50th anniversary of his mother's initiation it just made sense to honor her as I view her as a "mother" of the Yorùbá tradition within the African-American community.  So I'm just totally thrilled about this event because I understand the importance of her work.
 Eriwo Ya!: What have been each of your roles in the development of this production?
Basha: I wear many hats when producing the Moment in Time Festival, as I write grants, and do most of the organizing of the festival.  I am also involved artistically, creating artistic expressions to highlight the life of the honoree.  I will be performing in this year's production as well.
Joe: I have primarily been focused on fundraising, logistics, and coaching and encouraging those who are working on other tasks.
Eriwo Ya!: What excites you most about this event?
Joe: What excites me most is the mere production of something that has never been done before.  David Wright is the only one who has brought orisa plays to stage but this is the first time that we have   brought the history of both African-Americans and Latinos in Orisa tradition on to the stage.  In the future, we hopefully develop this into a series of productions that honor our ancestors and commemorate pivotal points in the history of Orisa worship in the US.
Basha: I'm truly excited about the medium of a play and the power and the beauty of Sango that is exemplified by Madrina Marjorie's story. I am extra excited, since I was involved in finding the roots of Margie and Joe's ancestors when on a trip with the Ooni of Ife to Trinidad.  Joe asked me if I could help him locate someone he believed was a member of his family and so I went knocking door to door to find where Joe's family was located.  I found his relative!  Three years later, after winning a free trip to Trinidad, Joe visited this same house I found and there was a book waiting for him, that had been dropped off three days before with a story about Folanin Coker, his ancestor who was a Sango priest.  Now we will be praising and uplifting the spirit of both of these powerful ancestors, Madrina Margie and Baba Folanin Coker, and that is truly exciting.
Eriwo Ya!: I know you can't give away too much information but what are some things the audience can expect to see?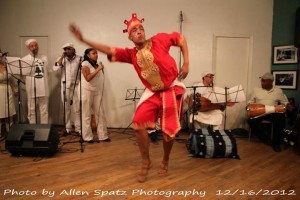 Joe: The staged reading highlights some of the major events of the beginnings of the Yorùbá tradition in the African-American community, such as the bembe where the orisas told the newly-arrived Cubans that in order to be successful in this land they need to return the tradition to its rightful inheritors.  The audience will also see some milestone events in the development of the tradition, like my mother's sixth ocha birthday where she had a bembe for Sango every day for six days.
Also, we will be showing a film where many elders who knew my mother will speak on her life and her legacy, such as Bàbá Yomi, Oseye Mchawi, Barbara Williams, Jewel Love, Yvette Paulsen, and some others.
Basha: The audience can expect to experience live orisa songs, original dancing, and, of course, fabulous Orisa drumming, both bata drum and guiro styles!
Eriwo Ya!: What do you hope the audience will walk away with after attending this event?
Joe: I hope that the audience will walk away with a better understanding of the history of the Yorùbá tradition in the African-American community as well as an understanding of this particular era.  There are many people who write about this time period but many of those people were not actually there.  I am hoping that people will learn more about the stories behind the stories and really see how this tradition started and evolved.
Basha: I hope that everyone who attends will have a better understanding of our history, will keep Madrina Marjorie's memory alive, and that people will know more about her work and legacy.  I hope that those in the tradition, those who enjoy African culture, or those who are just curious about tradition and culture will come.  This is truly an event for everyone; everyone will be able to find something meaningful at this event.
Eriwo Ya!: Thank you both for taking the time to do this interview!  Do you have any closing remarks?
Basha: People can learn more about ZEYBRAH and our other annual festival, Oceans of Rhythm, at www.zeybrah.org.
Joe: People can learn more about the Orisa CDC at www.orisacdc.org. Tickets for this event are available now for $10 and are half-off until November 15.  Tickets can be purchased online at http://www.brownpapertickets.com/event/495203 and the code to enter for the discount is CDCNOV15. People can also contact us at info@orisacdc.org for more questions or to purchase tickets offline.
Written by Darasia Selby-Adebisi