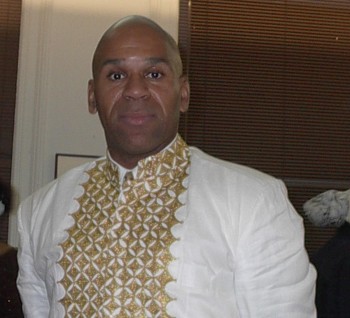 Joseph T. Quinones (Obakanla) was born in Harlem, New York.  He is a MBA graduate of the University of Pennsylvania's Wharton School of Business and is the Chief Operating Officer and Partner in Primrose Development Company, which is the real estate development subsidiary of First City Monument Bank (FCMB).  He is also the founder and co-chair of The Orisa Community Development Corporation, which is a socio-economic development NGO founded in the USA that seeks to expand into Nigeria.  His mother, Marjorie Quinones (Sango Gunmi), was the first African-American to be initiated as a priest of the Yoruba religion in America in 1963.  Everyone in Joe's family is Olorisa with his brother David (ibaye) having made Obatala in 1966 and his sisters Karen E. Quinones Miller (national best selling author) and Kathleen (Kitty), who are biologically and spiritually Ibeji, having made Yemonja and Osun in 1970.  As a consequence of his elder sisters and brother being initially baptized Catholic, Joe was the first African-American born into the Traditional Yoruba religious faith.
Joe was initiated to Aganju on May 26, 1979.  He was born during the emergence of African-Americans into The Yoruba religious tradition and his mother became renowned as the progenitor of one of the largest, most active, and respected African-American Orisa lines in the country.  Some of her most noteworthy godchildren and protégées include Lloyd and Stephanie Weaver and she was adjubona and Orisa grandmother to Oseye Mchawi.
In spite of the above, Joe's family was quite poor but even at the age of ten he was quite industrious so, he commuted from the South Bronx, where we lived at the time, to Harlem to sell bootlegged 8 track tapes, jewelry, and other such items at an open air stand in front of the Apollo Theater. Joe's family moved to Harlem in 1975.
In 1980, he joined the US Navy from which he was honorably discharged from in 1989 as a non-commissioned officer.  Joe went on to receive a bachelor's degree in both accounting and international business in 1993 from Temple University in Philadelphia.  He graduated magna cum laude in the top 6% of his class.  In his sophomore year, Joe founded Afrocentricity United, which was a campus-based group that attracted both students and members of the community. It was through his experience with Afrocentricity United that Joe discovered what would become his two passions in life – business and the upliftment of people of African descent, especially Yoruba.
Upon graduation, Joe started an illustrious career as a top corporate sales account executive for AT&T, where he was eventually ranked in the top 2% of the corporation globally. Joe was also an organizer within AT&T and in 1993 founded the Philadelphia chapter of the AT&T Alliance of Black Telecommunications Employees.  It with the Alliance Joe became involved with digital divide issues and did work addressing computer literacy.  He accomplished this by opening a computer literacy lab called the AT&T Learning Network Academy and also ran a computer contest throughout all of the Philadelphia high schools which awarded the winners computers.
In 1993, he also formed Three Brothers Enterprises Cultural Travels and Tours, which planned, marketed, and took people on African culture themed trips. Three Brothers Enterprises' mission was to bring people of African descent together through culture and entertainment.
Joe is also active as an organizer in Yoruba land and while a post-graduate student at Obafemi Awolowo University in Ile Ife coordinated bringing a group of American teenagers to perform for the Ooni of Ife and the Ataoja of Osogbo.  In response to an explosion in Lagos that killed thousands of Yoruba, he raised money for disaster relief and has bought hundreds of pounds of clothes to Yoruba land for the poor.  Out of respect for his activism in Yoruba land, he was awarded the title Chief Orisagbemi of Ile Ife by the elders of the Obatala Shrine there.
Joe developed his love for travel in The Navy and has traveled extensively internationally and has visited the Nigeria, South Africa, Ghana, Benin, Togo, Ivory Coast, Senegal, United Kingdom, France, Korea, Brazil, Philippines, and more.
In 1996, he started CityLife Property Development and Management, which was a real estate acquisition, development, and management company which had over 1.5 million dollars of assets under management before it dissolved upon Joe's departure for Lagos and Primrose Development Company.
In 1999, Joe did a formal presentation to his Orisa house, which was then the House of Olosunmi and Oke Sade, proposing that they develop a formal organizational structure with elected organizational leadership to support and compliment the spiritual leadership.  This ultimately resulted in Joe leading the transformation of his Orisa house into the Ile Ase Orisa Community of which Joe served as its first executive director.
In 2005, Joe and Ayoka Wiles founded The Orisa Community Development Corporation.  The Orisa CDC is Joe's brainchild and his goal was to expand into the larger Orisa Community a vision for a more unified and empowered community of Orisa worshippers than he first expressed by organizing his own Orisa House into the Ile Ase Orisa community.
In October 2008, Joe assumed the position of Managing Director and Chief Operating Officer of Primrose Development Company in Lagos, Nigeria.  Primrose is the real estate development platform for First City Monument Bank and is one of the premier developers of upscale residential units in Lagos and Accra, Ghana.  In 2011, Joe was elevated to partner within the firm.
Joe's grounding in the Yoruba tradition is compounded by the fact that he is of Yoruba linage. Proof of his Yoruba ancestry is contained in the book "Guinea's other Suns: The African Dynamic in Trinidad Culture" which contains an interview with his ancestor within which the interviewee detailed his father's (whom is a subject of various tales in Joe's mother's family) arrival in Trinidad as a free merchant seaman and Sango priest in the early 1800s.  He goes on in the interview to talk of the ethnic group (Yoruba) and town (Ilesha) in Nigeria his father was from.
It is his family linage that inspired Joe to resign from AT&T in 2000 and live in Nigeria for 1.5 years where he did graduate studies in Yoruba history and religion at Obafemi Awolowo University in Ile Ife.   With his godfather Lloyd Weaver as his witness, in April 2001, Joe went to his family's village where a Babalawo, who of course knew nothing of Joe, through Ifa confirmed that he came from a long line of Sango worshippers.
Moreover, the Babalawo said Joe needed to receive a very unique Egun gun ceremony where because Sango was as much Joe's family Egun (ancestral spirit) as he was his family's patron Orisa, his Egungun, unlike others that consisted of an egun gun mask, would instead have a figurine of Sango sitting on top of it.  Adding to the phenomena of this revelation was the fact that five years earlier. Joe had a spiritual experience which led him to have a Lucumi Egun stick carved that contrary to Lucumi tradition, had a figurine of Sango on top of it.
The centuries old line of Orisa worshippers that descends from Joe's lineage continues as Joe is a single parent to his son Akinseye, born in 2006, and his daughter Anike, born in 2008.
Joe's thesis is that talented Orisa worshippers can be the modern day warriors of their community and use their skill sets to develop economic and political assets for their community that can be used to improve their social conditions and empowerment as a group. Joe aspires to use his skills as a businessman, real estate entrepreneur and community organizer to unify, institutionalize and empower the Orisa Community nationally and ultimately globally.