Written by Baba Faseye Sangobukunmi (Jamel Cherry)  | Edited by Darasia Selby-Adebisi | April 1, 2014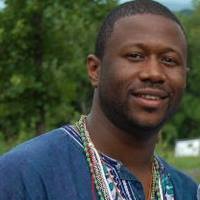 I began my spiritual journey in the church. Yet as I got older, my soul still searched for something more. During my high school years I delved into Islam where I learned how to read and write Arabic, yet still my spiritual appetite had yet to be satisfied so my search continued. As a university film student, I had become increasingly interested in more African spiritual traditions and began an intense study into Ancient Kemetic philosophy. The deeper I looked, the deeper I would find myself in Africa.
Sensing my curiosity, one day a friend of mine invited me to see his godfather for a reading. His godfather was a babalawo and priest of Sàngó in a living and breathing African tradition called Ifá, which I had up until this time never heard of.   My interest was peaked and I quickly made an appointment. In the reading he told me many revealing things about my destiny but most importantly he said that I was destined to be priest of Ifá and Sàngó. Suffice to say I was quite confused but the reading represented a major turning point in my life and for the first time I felt the first signs of spiritual satiety. I then began a deep and intense study of all things Yoruba under various elders with good and some not-so-good experiences.
Eventually, I would be introduced to my current Oluwo, Baba Fakayode Faniyi, Agbongbon Awo of Osogbo and in 2004, make my first trip to Nigeria where I would be initiated into the Sàngó priesthood after it was confirmed that Sàngó was my orisa. The night before my initiation, I would dream about the whole initiation process as well as see the presiding priests whom I had never met before. I was shocked to see the same priests the next day at my ceremony.  In the dream they said that they were putting a very powerful and potent warrior spirit on my head, who would vanquish my enemies. Upon my return to the US I began to see Sàngó work through me and for me as I continued my journey. My first year was rough to say the least. But after surviving the trials and tests of my first year I came out in a better place than I ever could have imagined. Few years later I would culminate my spiritual path by initiating to Ifá, thus fulfilling the prophecy made six years earlier.
Through continued study of holistic health,  Indigenous  African spiritual technology and energetic healing,  I would begin conducting
educational workshops in the community while doing spiritual work for those who found themselves at my doorstep. All the while I continued to travel back to Nigeria to document the culture on film to enhance my knowledge and training.   In 2013 another milestone was reached when I completed the film Odun Oshun, the Return to Water, a documentary film about the Orisa Oshun and her festival in Osogbo, Nigeria.  It is the culmination of many years traveling back and forth to Nigeria.
Ten years later, I stand as a Reiki master, Certified Holistic Health Coach, Filmmaker, African Shaman, Babalawo, Sàngó priest and head of the Ile Ori L'agba Spiritual Community.  In addition to the completion of my latest film, I have just recently completed my graduate studies in Holistic Nutrition Education.   I have come a long ways since the days of church and Sunday school, but instead of pushing me away from God, Yoruba spiritual tradition has allowed me to fully appreciate God's power and influence. Sàngó has allowed me to overcome innumerable challenges and develop more courage to conquer what is perhaps the greatest challenge of all, fear of my own potential.  And Ifá represents that energy which continually reminds me of my destiny and the need to see it through.
Baba Jamel's film, Odun Oshun: The Return to Water will be screened at the Caribbean Cultural Center African Diaspora Institute in NYC on April 16 at 6;30pm.  Please visit the Facebook event page for more information or buy tickets here.
For more information about Baba Jamel's spiritual or holistic health services, or to schedule a screening of his film in your area, please contact him at jamelcherry@gmail.com.
Interested in sharing your journey in Orisa tradition?  Contact us at media@orisacdc.org.