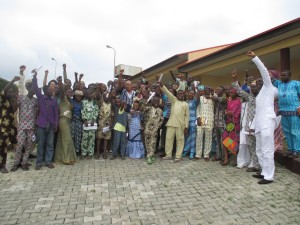 In an effort to help young people in Nigeria to gain skills that will continue to serve them far beyond a single donation, The Orisa Community Development Corporation, in collaboration with local organizers from across Yorùbáland, is hosting its 4th Orisa Community Empowerment Retreat
This 1-day retreat will take place on 19 August, 2015 in Ibadan, Oyo State, Nigeria and will feature workshops conducted by both Americans and Nigerians covering topics such as how to successfully apply to study at an American university, community organizing and more. We look forward to having a wonderful time!
Date:
Wednesday, 19 August 2015
Time:
8 am – 5 pm
Cost:
N800 if you register and pay by August 1.
N1000 after August 1 (including payment on arrival).
Includes workshops, lunch, and materials.
All participants will receive a certificate of participation
Venue details and payment instructions will be provided upon registration
Space is limited to first 150 registrants
Register by August 1 for a chance to receive a
sponsorship for free admission and transport
This retreat is devoted to offering practical and valuable lessons, skills, and strategies for developing an empowered self and community and networking between US and Nigeria. Participants will swap information, skills and knowledge on a variety of topics relevant to improving and sustaining the quality of life of the community. At this retreat we will learn, laugh and connect with youth, students, women, men, entrepreneurs and community leaders from all sectors of Yorùbáland.
Co-Sponsors:
The Ose Meji Foundation of Ibadan
International Council for Ifa Religion
Become a sponsor! Two ways to sponsor:
Sponsor a participant: For a donation of just $10 (N2,000) you can sponsor a young person who otherwise wouldn't be able to afford to attend. Grants will cover attendance fee and transportation.
Become an Official Sponsor: For a minimum donation of $25 (N5,000), your group or business will be listed as an official sponsor of the event and we will share information about you to our followers. Sponsors donating $100 (N20,000) or more will be listed on all promotional materials.
DONATE HERE: http://tinyurl.com/OrisaCDCYER2015
Email: info@OrisaCDC.org or BBM 33005593