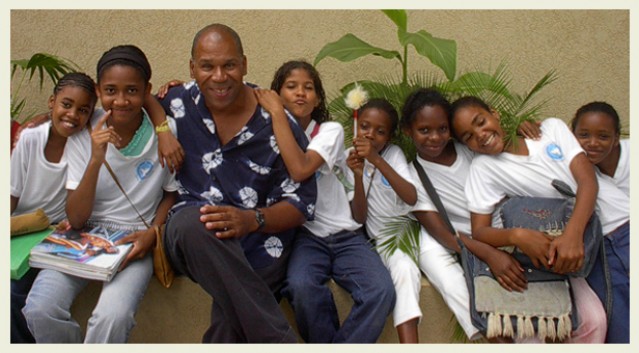 The Orisa Community Development Corporation is the brainchild of Joe Quinones, a businessman and community organizer who was born into the Yoruba tradition in the United States of America.  His goal was to expand into the larger Orisa Community the vision for a more unified and empowered community that he first expressed by organizing his own Orisa House into the Ile Ase Orisa community.
Ayoka Wiles partnered with him and and in 2005, the Orisa CDC was incorporated as a non-profit organization.  Initially, Joe and Ayoka worked together as the CDC's sole members and in 2007 were joined by Kyle Smith, Muata Mobley and Oliver Binns.  The five soon decided to form a "think tank" to discuss the challenges facing the Orisa Community and develop the conceptual framework, mission and vision statement for the Orisa CDC.  In August of 2007, the Think Tank met for the first time with Millicent King Channell, Imani Gross, and Kwayera Cunningham rounding out the group.
After two years of debate and deliberations, the think tank concluded its work and in March, 2010, Ayoka and Joe distilled the output of the think tank into what became the Orisa CDC's strategic plan, which was also informed by an Orisa Community survey.
Some of the most talented members of the Orisa Community were then invited to form the leadership team that would lead the execution of the strategic plan and take the first steps in fulfilling the Orisa CDC's vision and mission.
Since 2005, the Orisa Community Development Corporation has accomplished the following:
Twice co-hosted cultural education programming promoting Yoruba cultural tradition and arts with ZEYBRAH
Hosted a group of youth at an African American MBA conference to introduce youth ages 16-24 to career, leadership and academic opportunities through a series of panel discussions and workshops
Facilitated All day personal and professional development workshops for Egbe Iwa Odo Kunrin/Binrin Rites of Passage Program
Conducted real estate ownership and investment seminar and bus tour in order to foster education, leadership development and empowerment opportunities for low to moderate income families
Completed a humanitarian mission and cultural tour to Nigeria, West Africa which included the distribution of clothing, books, toys and medical supplies to traditionalist communities in Osogbo, Ibadan, and Ile Ife
Our Track Record
Since 2005, the Orisa CDC has:
Co-hosted cultural education program promoting Yoruba cultural tradition and arts with ZEYBRAH
Conducted real estate ownership and investment seminar and bus tour in order to foster education, leadership development and empowerment opportunities for low to moderate income families
Hosted a group of young people at an African American MBA conference to introduce youth ages 16-24 to career, leadership and academic opportunities through a series of panel discussions and workshops
Completed a humanitarian mission and cultural tour of Nigeria, West Africa which included the distribution of clothing, books, toys and medical supplies to traditional communities in Oshogbo, Ibadan, and Ile Ife
Facilitated all-day personal and professional development workshops for Egbe Iwa Odo Kunrin/Binrin Rites of Passage Program