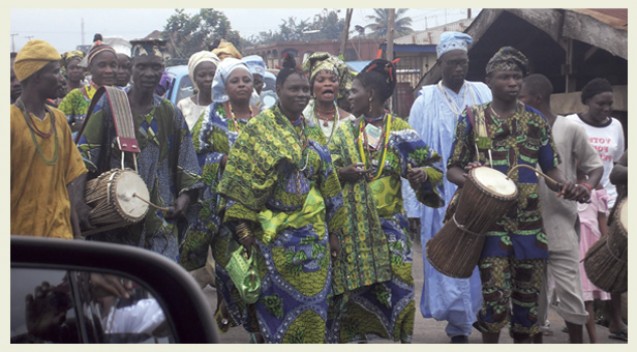 The African world view and the Yoruba tradition acknowledge and recognize four major modes of thought or consciousness:
collective consciousness, or that of a philosophy of a communalistic society;
connection with and reverence for Egun (the ancestors);
connection with the Creator or a divine being(s) and the recognition of the presence of that divinity within oneself; and
connection with and reverence for nature / Orisa. In this recognition, there is a fundamental respect for our Elders, who are pillars of our community and repositories of society's wisdom and knowledge. They enable us to tap into the memories of our past and provide us with necessary wisdom to guide our growth and future.
The Orisa Community Development Corporation acknowledges the important role our elders play in the community especially as it relates to building, establishing, and maintaining protocols and guiding principles that encourage our collective growth. We acknowledge the place of Elders in the hierarchy of creation. It is through the will of Olodumare, Orisa, and Egun and with the advice of our Elders that we are guided in our decision making.
The leadership and Ase of our elders is indispensable in guiding the community toward its collective objectives.
The Orisa CDC recognizes that establishing a strong and meaningful relationship with our elders is essential to our development as an organization. We are committed to creating a relationship that is balanced and designed to support our community in finding solutions to its greatest challenges.
Therefore, we join hands as we bow to the wisdom of our Elders in establishing The Orisa Community Development Corporation's Council of Elders.
It is envisioned that The Council of Elders will function together in an organic way with The Orisa CDC. Some of the functions of The Council include:
Drafting and making public statements through the Orisa CDC to inform the community about social and spiritual issues that impact them.
Meeting on an as needed basis with a minimum of at least twice a year. Meeting resolutions, discussions, and suggestions will be reported to the larger Orisa Community.
Assisting in the resolution of issues and conflicts as they arise and providing moral, ethical, and spiritually based opinions and recommendations.
Community members wishing to contact the Council of Elders to bring a matter before them or to seek their advice, should do so by e-mailing them at council@OrisaCDC.org.
Council Members
Kim Williams was initiated to the Orisa Yemonja in 1979 by godparents, Reynard Simmons, Sango Dei (ibae) and Stephanie Weaver, Okesande. She is a classically trained singer and has worked with many diverse music groups, the most recent being with Amma McKen and Omi Yesa. She is a spiritual advisor and elder priest of Omi Ero Ile Yemonja. In conjunction with Egbe Omo Yemonja, Inc, she was entrusted with the responsibilities of Elegun for Ogunleki in 1996. Following the footsteps of Barbara Bey Ogunrelekun (ibae), she became the Egbe's Ategun in 2004 and is currently the custodian for Ogunleki, who traveled from Ibadan, Nigeria to be a part of our community in the US.
Sabrina has consistently been active in various Brooklyn communities and non profits including the Bedford Stuyvesant Gateway Project, the Bedford Stuyvesant I Have a Dream Program (Executive Director), and Excellence Boys Charter School (Founding Member). She has given tirelessly to the Orisa community as a Founding Member and 1st Vice President of the Ijo Orisa Yoruba Church, the Founder of Ile Osun Odo Femi and a founding member of the Egbe Awo Osun. She was initiated to the Osun in June 1980 by Osa Unco (Sunta Serrano Ibaiye) and Charles Abramson (Ibu Okanla Ibaiye). Currently, Sabrina is the CEO of O Consulting Group.
Lynette White-Mathews is a Priest of Obatala initiated in 1979 by Ascension Serrano, Osaunko; "Sunta" Ibaye. She has since earned a Bachelor's in Education from New York University and a Masters in Educational Administration and Supervision from the College of New Rochelle and currently works as an Assistant Principal. As a member of Omo Obatala Egbe, Inc. Lynette represented the Egbe as a Board member of Ijo Orisa Yoruba Church, Inc. She later assumed the position of Executive Director for the Church and continues in this position.
Amma McKen holds the title of Akpon within the Yoruba tradition She has been singing for over three decades and is the first African American Akpon to produce a musical recording of the traditional songs, titled Alaako Oso: Owner of the Songs is Eloquent. She is the director and co-founder of Omiyesa, a cultural music group. She was initiated to Yemonja in 1979 by Asuncion ìSuntaî Serrano Osaunko (ibae) and Tima Baker Oshun Lari. Iya Amma also holds the title of Ellegun within the Yemonja Egbe.
Tima Baker was initiated as a priestess of Oshun in 1972 by Alfred Davis Omi Toki (ibae) and Betty Barney Sango Funke (ibae). She is an esteemed elder of the Awo Oshun Egbe of New York. Additionally, she is the senior elder of Ile Omi Toki and Ile Oshun Lari. She is a singer, dancer, and accomplished senior level professional, serving elders and youth in the community. She has worked with several nonprofits in New York and danced and sang with noted groups.
Iya Oloriwaa! began studying and teaching African dance and music as a teenager and was introduced to African spirituality by Nana Yao Opare Dinizulu- Ibaye. She is a priest of Obatala initiated in 1983 by her godfather Yomi Awolowo in the line of Osa Unko-Ibaye. An Akpon for 30 years, she leads ceremonies singing for Orisa and Egun, and trains future Akpons. She is blessed to witness and participate in the various work and traditions of the full Orisa community. Iya Oloriwaa! is a founding member of the Omo Obatala Egbe, Inc. and Ijo Orisa Yoruba Church, Inc and is the founder and Alakoso (director) of the Egbe Iwa Odoíkunrin*Egbe Iwa Odo'binrin, Inc (the society of young men and young women of character) Rites of Passage Program.
Iyalorisa Gheri was born in San Bernardino, California and raised in New York City, where she earned bachelors and masters degrees from New York University. Gheri is also a certified nurses midwife. She was initiated to Obatala on October 7, 1978 and has since initiated eight heads. She is also the founder of "Always Orisa" which serves a community of priests and believers that do not have an Orisa family to work with in the Philadelphia area where Gheri now resides with her husband Joe. Gheri has 3 daughters and several grandchildren, all of which were born into the Orisa tradition.
Baba Felix Sanabria, is a Babalawo and percussionist who has been performing and recording for over thirty-five years with the most renowned musicians in the Afro-Caribbean, Latin, Afro- Pop and Jazz Diaspora. In June of 1992 Felix was initiated as a priest of Obatala by Olo Oshun Evelyn Okantomi Smart and Oni Shango Chief Aya Ilu Bey (ibae).
As an Omo Aña, Baba Felix has performed Orisha music with many of the most prominent drummers of our time. – most notably, the late great Orlando "Puntilla" Rios, Oni Shango Obatilemi, who was a leading exponent of Aña, Orisha and Afro-Cuban music in the United States. Puntilla introduced Felix to his godfather Gerardo "Taboada" Ferandez Ogbeyo who initiated him into the Ifa Priesthood in March of 2001.